Every year, August 21 marks World Entrepreneurs' Day. The purpose of World Entrepreneurs' Day is to create awareness for entrepreneurship, innovation and leadership throughout the world. In the spirit of raising awareness and celebrating those that chart their own path, we thought it would be the ideal time to get to know the founder of Gravitate PR a little bit better and understand what sparked her entrepreneurial spirit. 
Below is a conversation between Senior Account Executive Krystal Peak and Gravitate PR founder and president Lisette Paras.
Did you always know that you wanted to be an entrepreneur? What did you want to be when you were a kid?
No – absolutely not. Even after I started my business, I didn't necessarily see myself as an "entrepreneur." Initially, it started off as just me and one client, so I think I saw myself more as a consultant in the very early stages. Being an entrepreneur struck me, in the past, as being a very high-risk role, and as someone who does not gamble (I'll cry if I lose $5 on the chocolate wheel), it didn't seem like a position that I craved or relished. 
But, perhaps it was how I crafted the concept of entrepreneurship in my head that needed some modernizing. Entrepreneurship is about having a clear mission, goals and vision and seeing it come to fruition. And PR is really about being able to tell compelling stories, and I could do that!
As a kid, I loved the art of words. I'd spend hours reading books. Any free moment, my head was in a book; whether I was sitting at the kitchen table, walking on the way to school, or snug under the comforter of my bed, chances are a book was at hand. So, reasonably, I thought I wanted to be an author. If not an author, I thought maybe a war correspondent or a translator for the United Nations. Clearly finding and communicating stories has always been a love of mine.
What brought you to the world of PR?
I studied media and communications at university with the ultimate goal of becoming a war correspondent. When the reality of how hard and long it would take to get a job in that field finally set in (not to mention the looming reality of the danger and isolation that comes with such a career became more real), I started thinking about roles in other subjects I studied as part of my degree – including public relations. 
I got my first public relations job scrolling through the Yellow Pages in Australia (when physical copies were still a thing). I was that person cold calling PR firms to ask if they had any vacancies. Serendipitously, a boutique tech PR firm I sent my resume to just had someone quit a week later, so rather than putting a job ad, I was interviewed for and offered the job. The rest is history.
Tell me about how you came to move to the U.S.?
I'd been working for a global PR agency called Ogilvy (yes, the Ogilvy who Mad Men is based upon) for over 4 years and realized that I was working with a number of global tech brands running Asia Pacific PR across 13 markets. While their presence in APAC was substantial, the strategy and higher-level positioning was being formed more in the U.S. I wanted to be closer to that! When I told my employer, they managed to find a role for me in San Francisco, which made sense given its proximity to Silicon Valley. 
What inspired you to start your own PR firm?
After five years of working in the U.S., I'd had the chance to work with global companies, play a central role in the communications for a number of IPOs and M&As, and launch startups from scratch. I'd worked in a big global agency, a scrappy mid-sized firm, and an in-house role. After the in-house role, I wanted to find a new and uncharted experience, and I realized that starting my own PR firm made a lot of sense. 
When I started Gravitate, my vision was to establish a true, globally-minded agency that has a broad range of capabilities–from messaging and media relations to analyst relations, social, content, and digital marketing–but still maintain a tight, personal connection to each client.
I saw this happening by bringing together people with diverse backgrounds and experiences to be successful – rather than hiring from the same pool or network of talent – to uncover "non-obvious" topics and trends through our wide lenses. This perspective is still very much at the heart of Gravitate PR today.
As a woman, a woman of color, and an immigrant in the largely white, male world of tech and PR, have there been experiences you want to share about some of the hurdles or challenges you've faced?
I think particularly early on in my career in Australia, and even in the early days of Gravitate when we hadn't built up the client portfolio, I encountered some uncomfortable situations where people didn't take me as seriously. I'd typify them as microaggressions. Like when I first started the PR agency, someone said I "looked too young" to have a business. Even more recently, a PR founder complaining about not being able to find people of color to hire said that the problem was that "we're all white." When I chimed in to say that I am a person of color she quickly retorted, "You're Asian you don't count" and proceeded to talk over the top of me.

I realize that in Silicon Valley, there is a high percentage of tech talent (like engineers) who are of Asian descent and perhaps this is where the lack of acknowledgment came from, but it's a very different story when it comes to PR. 
The PR industry has long struggled to improve on diversity & inclusion (e.g. the 2019 BLS data shows that advertising and PR agencies are 82.6% white in the U.S.), and while I'm proud of some of the initiatives we've taken, we all still could do so much more. 
I'm hopeful that this year, following the tragic events surrounding George Floyd, Breonna Taylor and countless other senseless deaths in the Black community, companies are starting to embrace and enact greater positive change and action – including in the PR industry.
You are passionate about mentoring and resources to give other immigrants a path to success. Can you tell me what that looks like?
Sure! One of the nonprofits that I've volunteered with since the end of 2016 is Upwardly Global, which supports immigrants and refugees who want to contribute their professional skills to the U.S. workforce. Today there are millions of immigrants who are college-educated but are unemployed or significantly unemployed. Upwardly Global provides customized training and support for these new Americans, giving them an equal opportunity to find and secure jobs that help them achieve their full economic potential. For me, that means helping to review resumes, conduct mock interviews, or provide English coaching skills. Even something that seems so simple to many of us, like the job interview process, can be completely foreign to immigrants, as the experience could be markedly different in their home countries. 
As a two-time immigrant myself (my parents and I migrated to Australia from the Philippines, and I now have been in the U.S. since 2011), I recognize how hard it can be to find your footing in a new country, so it's personally and professionally fulfilling to me to be able to support and mentor others.
That's a really interesting and impressive statistic! We see these stats reflected with our own clients as the technology sector has many examples of co-founders and CEOs who are immigrants. In the few years we've been in business, our clients have included execs from Israel, the UK, continental Europe and Asia Pacific. I think at Gravitate, it's made for more enriching and fascinating experiences in partnering with clients and other firms around the globe, giving us different perspectives and ways to tell stories.

I think another important point in telling stories from all walks of life is to celebrate people's diverse backgrounds and experiences and how it's gotten them to where they are today. Unfortunately, I've read stories where rather than celebrating these differences, the narrative has been an "us" versus "them" dynamic – like talking about how immigrants will take jobs away from others. It's a worrying generalization when you see that these stats actually show how entrepreneurs – including new immigrants – are contributing to society and the economy. I hope bringing these individual stories more to the fore will help to really humanize some of the achievements in our communities.
What would your words of advice be to the next generation of women, BIPOC, and immigrant entrepreneurs?
Believe in yourself – keep moving forward and stay resilient, even in the face of adversity or struggle.
Celebrate your differences and diversity. Multiple studies have shown that diverse teams are more successful. Having a more cosmopolitan and inclusive team can help continually inject fresh ways of thinking into your business, stand out from the crowd, sharpen your performance and yield more satisfying results in the long term.
The main objective when a company reaches out to a public relations firm is to build brand awareness and tell their company story. Business owners spend a lot of time telling the story of how they built the brand, what sparked their idea to start the company and interesting anecdotes and customer testimonials. One thing that many leaders don't spend time on is telling the stories of what they did wrong — and that is a big mistake.
I spent more than a decade in the world of journalism, specifically business journalism, covering entrepreneurs and the innovative companies they've built. Among the hundreds of leaders I have spoken to, I have asked nearly every single one of them to tell me about their successes as well as their failures. Almost to a person, these entrepreneurs were able to clearly tell me specific examples of success that they, or their company, experienced with colorful details and memorable quotes but when I ask about their biggest failure I was usually met with silence. Occasionally, I'd meet with an executive who was fairly certain they couldn't think of a single failure either personally or from the perspective of the company — this is usually when I would start questioning the honesty or memory of the interviewee.
While I understand the reticence to share mistakes, missteps, and even failures, not being prepared for that topic and trying to convince a reporter that your company is free of them draws more concern and criticism than disclosing past errors. And, frankly, a rosy profile about how great a company is just isn't as impactful or memorable as one where an executive shares some of the chinks in the armor. This is true of all profiles. Flaws make a subject more relatable and believable.
So, below I have included some guidance on how to prepare for questions about failure and even ways to use those past mistakes to help boost the clout of your leadership and your company.
TAKE STOCK IN YOUR JOURNEY
Whether you have ever spoken with the media about your career or company, chances are you would be able to quickly respond to a lot of the basic media inquiries about how your company started, what problems you are solving for and what is next, but those are softballs.
What about:
What is the hardest part of running this company?
How do you deal with customer complaints?
Was there a moment when you almost threw in the towel?
What is the biggest mistake you made?
Why aren't you doing X anymore?
Those questions can be uncomfortable for those that aren't prepared to answer them but everyone in business should expect to be asked these sooner or later. So there is no better time than the present to address them.
Schedule some time alone or with a business partner to really talk about your company's whole journey and the milestones (both good and bad) and how you would want that story to be told. Don't shy away from the uncomfortable episodes: instead take the time to write about what went wrong, why you think it went wrong, what you learned from it, and how you are preventing something similar from happening in the future. Be thorough in your initial notes then circle back to them a little later using a public relations lens. Repeat these steps as you go through the whole timeline of your company until you hit present day.
FRAMING NEGATIVE EPISODES IN A POSITIVE LIGHT
Now that you have notes highlighting various highs and lows from your company's history, start looking at those lows through a PR lens. Pick one or two easily-communicated scenarios and think about how you can tell a reporter about them. Bringing other people in to brainstorm is helpful here since a fresh perspective can help reframe what might, for you, be a sore subject.
Think about Steve Jobs and Apple. Both are widely regarded as the pinnacles of success and innovation but have both had extremely public failures witnessed in real life, print, and several movies.
The humor and hindsight when Jobs recounted in a 2005 commencement speech, "I didn't see it then, but it turned out that getting fired from Apple was the best thing that could have ever happened to me" made it far more memorable than if he had just told graduates that hard work leads to success.
As you draft different ways to discuss past errors don't forget to:
Think about your audience: If you are telling a story to business people, you can likely use business language and tie to larger trends going on at that same time. If you mostly talk to consumers, discuss your missteps in plain speak and with humility.
Don't minimize failures: It may feel necessary to diminish bumps in the road but you run the risk of sounding dishonest or like you are hiding something. If you are going to talk about failures, speak plainly and honestly as you would to a mentee or fellow business owner and truly own those mistakes.
Attitude is everything: How you retell your failures is also critical. For some, they default with earnestness. For others humor comes naturally. A reporter writing about your company and the readers that will later read or listen to your responses are far more likely to endear themselves to you if you approach your responses with very human and relatable emotions.
GETTING COMFORTABLE TAKES TIME
Like any narrative, you will deliver your story more clearly each time you tell it so don't expect that an hour of jotting down notes will be all you need to do, but it will help. In addition to building a more honest, complex narrative for consumers, you may also become known as a good interview subject which can help lead to more earned media and opportunities to tell your story. Good stories need to be told and, hopefully, these suggestions will help you get comfortable telling yours.
Every company has a voice and more organizations are choosing to use it to amplify some version of brand activism. For some brands, this could take the form of a social media post about Equal Pay Day. For others an advertising campaign pledging to use only fair trade ingredients. Whatever the premise, social media and other marketing channels are enabling businesses to use their voice to share the values that mean the most to them.
But brand activism is not a one-sided endeavor: 81% of consumers say brands must earn their trust and 66% think brands should take a stand on issues publically. As consumers seek out businesses that reflect their values, and as the general population becomes more diverse and integrated, there is a clamor within companies to create content and strategies around a wide range of social, environmental and cultural issues.
RAINBOWS IN JUNE
One such example is when June 1 rolls around and malls, billboards and commercials are awash in rainbows and queer-presenting families for Pride month. Just 15 years ago, you'd be hard-pressed to name a dozen companies publicly supporting the LGBTQ+ community, let alone releasing a Pride line of clothing or raising funds for LGBTQ+ non-profits. But now the pendulum has swung so far into the pro-LGBTQ+ space that many businesses are treading into the inauthentic trap known as "rainbow washing."
Rainbow washing is a term for businesses that use or add rainbow colors to advertising, apparel, accessories, etc. in order to earn credibility that they support the LGBTQ+ community without truly incorporating said support into the fabric of their company. While often the intention is noble enough, moving forward companies are going to need to be more thoughtful on how they show their support and not just slap a rainbow on some merch and call it a day. So how can a company thoughtfully tell their LGBTQ-inclusivity story and support? Here are some ideas to get you started.
BE AN OUTSTANDING LGBTQ+ EMPLOYER
To share your values externally, they first must be present internally. So, before you start printing those Pride shirts and rainbow buttons, take a look at the diversity you have on your staff and how you can show up in support of their LGBTQ+ identity. Consider an internal audit and anonymous employee review of your support and policies. It is likely you will discover there are policies, employee resource groups, healthcare plans and other processes that can quickly be adjusted to create a better workplace: not just for LGBTQ+ employees, but everyone.
SCRUTINIZE YOUR RAINBOW WASHING PAST (and present)
It's time to take stock in what your company has done for past LGBTQ+ campaigns and chart some guidelines for the future. Most companies are guilty of just adding a rainbow into their logo for the month of June when you know better you do better. Not only do brands need to take their support further than the rainbow facelift, but they also should make sure to have diverse teams reviewing marketing collateral, and take special care to ensure they run LGBTQ+ content past a few people that identify within the community they are speaking to.
An important note: If you are called out on social media for rainbow washing, being a poor ally, or otherwise running afoul of your intended sentiment: Don't be defensive. Call in your critics and listen to what they have to say. Whether you agree with the critique or not, if the LGBTQ+ community isn't reading you as authentic there is something to be learned rather than something to defend. Apologize and seek to do better.
ANY FINANCIAL SUPPORT IS BETTER THAN NONE
Larger companies often have an easier time making hefty donations to national and local LGBTQ+ nonprofits, but that doesn't mean your company can't help. Whether it is a one-time donation, a recurring company matching gift, volunteer hours, or free goods and services, showing up financially is a critical part of supporting the queer community. And don't forget about smaller, local non-profits where your employees are or your company is headquartered so think locally!
LIFT UP OTHERS
As with any message, you want to choose your speaker wisely. Maybe your CEO or co-founder is the go-to spokesperson for your company but if they do not identify as LGBTQ+ then you may want to widen the net and look first internally for someone in the community and let the light shine on them. For any message to read as authentic, LGBTQ+ folks must speak for themselves. Depending on your company size or diversity this may not be possible and this is when you may want to shine a light on the LGBTQ+ non profit you are partnering with or an LGBTQ+ customer or client you helped. Push your company to come up with new ways to speak up for marginalized communities by shifting the focus of the conversation back to their experiences.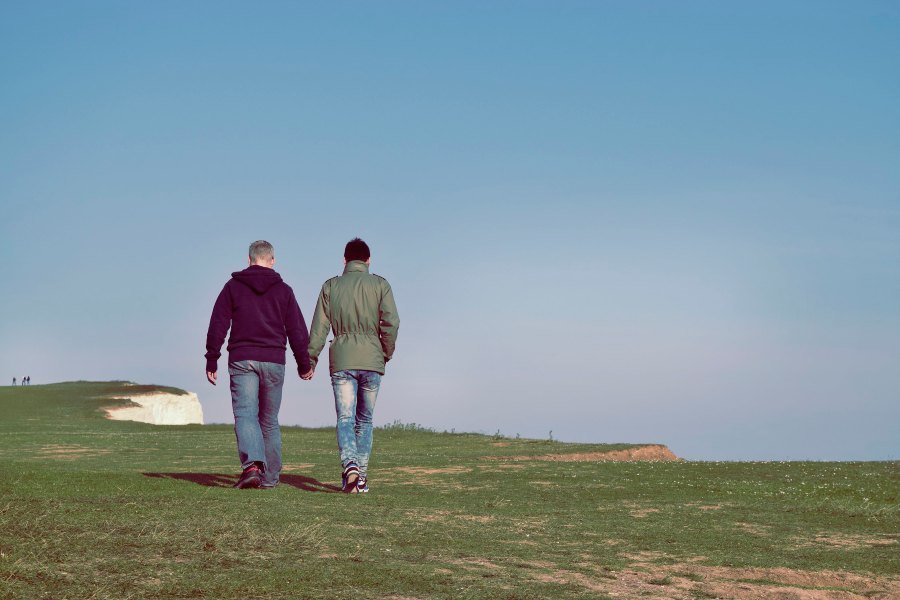 BE AN ALLY - EVERY DAY
So many companies want to join in the parade come Pride month. It is colorful and joyful and fun, but truly and authentically showing up for the LGBTQ+ is a year-round endeavor. Queer folks exist in our world every day of the year and want to know that they aren't just being pandered to in June. So calendar out ways for your company to be an ally all year long. Schedule internal conversations with LGBTQ+ employees, provide more funding to your employee resource group events, add some volunteer days, add people's pronouns to your business cards/name tags, and support LGBTQ+-owned businesses.
And remember, you aren't going to be the perfect ally 100% of the time. No person or company is perfect. But striving to learn and grow makes your brand activism valuable.
If you are interested in learning more about how to be an authentic brand and brand activism, we'd love to chat. Feel free to get in touch.